Tue 04/06/10
(NY) New York HealthScape, a project of Southern Tier HealthLink (STHL) in Second Life®, encourages residents to participate in online activities to educate them about the importance of health information being shared between various health organizations.
The project is spread across eighteen sims that accurately represent many of the New York State locations where the real life medical facilities are located.
Second Life is the ideal environment for patients—meaning you, me and everyone we know--to interact with virtual healthcare facilities and see how the exchange of medical information works.
I was privileged to get a guided tour from
Panacea Luminos
(Christina Galanis in RL), executive director for STHL, that let me experience this amazing program from the patient's point of view.
Eighteen sims covers a lot of virtual ground and the project is arranged in a way that's fun and interesting for visitors. Not only are healthcare facilities represented, but there are parks, shops, villages, townhomes, and houses as well.
This project is of personal interest to On Innovations (OI) Magazine Publisher Carmichael Caudron, who has two homes in the area.
The project just had its official roll-out of outside promotion yesterday on Monday, April 5th 2010.
NY HealthScape owner Panacea Luminos
So what is there to do in NY HealthScape? Plenty.
The primary purpose, of course, is to create your own Personal Health Record in the private and secure environment created there.
You get to watch how that record is incorporated in the Electronic Medical Records system as you move from one island station to the next.
This is done by interacting with a variety of scenarios designed to both educate and entertain.
As you play the games and experience each scenario, you learn about privacy issues while setting security and sharing limitations on your medical info the same as you would in real life.
My tour started in Battery Park, where I got to ride the Sea Crystal Carousel, a very relaxing experience with the calming instrumental music composed by Kyle Beltran. Then can catch a cab through the city to where you'll hear the story of Uncle D, a character who lived in New York as an HIV-positive member of a Brooklyn neighborhood.
This scenario educates through storytelling and visitors can add details or creative elements that enhance the story of Uncle D's life.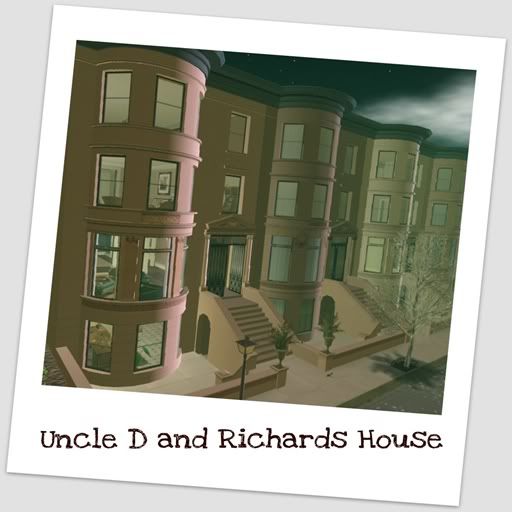 You'll also visit a clinic in Brooklyn, and possibly attend a music or art event along the way.
Live music is often played at Healthy Grounds Coffee Shop.
When you arrive at the Hamptons Village, which is one of several backgrounds for the health challenge, you'll see a few lovely vintage homes on the shore, some of which are available to rent.
And don't forget to redeem the points you earned while playing HealthScape's interactive games to buy clothing and other virtual goods at local merchants.
Some of HealthScape's activities include "Doctor's Visit," a series of medical scenarios from labwork to surgeries that demonstrate how patients and providers benefit from shared medical information.
The "Learning Journey" is an informational tour that demonstrates the Health Information Exchange through everyday activities like shopping, eating, and exercising.
When you visit the
Wilson Medical Center
, which is a replica of the actual hospital in New York, you can experience "A Day of Adventure" that includes what emergency services are like as they relate to the Health Information Exchange.
A scenario has been scripted for a ski accident that requires emergency transportation and immediate medical attention.
The Exposition Learning Center has five learning areas that include movies, audio productions, powerpoint presentations and other media that educate on the importance and benefits of the Health Information Exchange.
The only reason the center sits in the air above the city is because the high-tech aesthetics clash with the project's more urban theme.
At the Health Center Village, a location inspired by village-like malls of the Midwest, you can take the health challenge for diabetes.
Rez the basket and collect apples for points you can redeem for treasure. Walk along the streets of this friendly neighborhood, where in real life you might visit a clinic at the same time you run your daily errands.
The Autism Awareness Center is inside a lovely two-story home in the Health Center Village.
You'll learn about the history of autism's discovery, the myths and facts, the spectrums of the syndrome, and symptoms for its detection and diagnosis.
Then you'll visit the inside of a room that has the sights and sounds of what an autistic child or adult may experience.
It was a real eye-opener for me.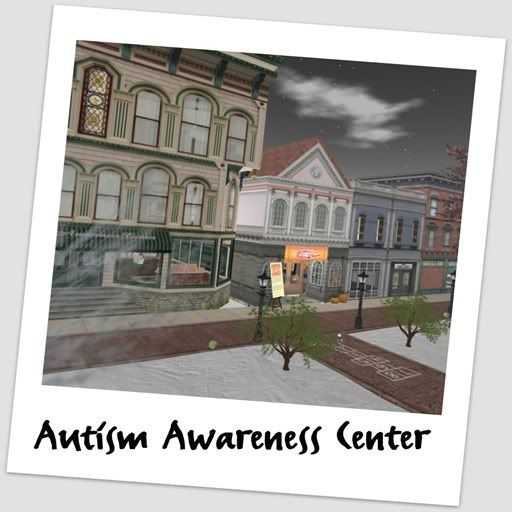 Panacea told me about a Second Life high school class of residents in teen and child avatars who took a field trip to the
Autism Awareness Center
.
While there, one of the students realized he hadn't been bad or stupid as a kid in school, but actually had a form of autism. His experience at the Center changed his life.
Panacea also brought to my attention that Torley Linden, who does a lot of Second Life photography and creates SL's video tutorials, is autistic.
It's a joy to travel from sim to sim when you can ride a replica of the vintage Phoebe Snow Train to all ten stations located on various sims throughout the project.
It's a scenic trip that takes you through urban and country terrain, and even a tunnel through a mountain.
Give yourself a couple of hours to explore this amazing project from Southern Tier HealthLink. It's fun and valuable, plus you get to play games and win points for prizes. Visit
http://archive.treet.tv/node/3792
to see a taped interview with some of the people involved. The following are slurls for a few of the NY HealthScape locations mentioned in this article.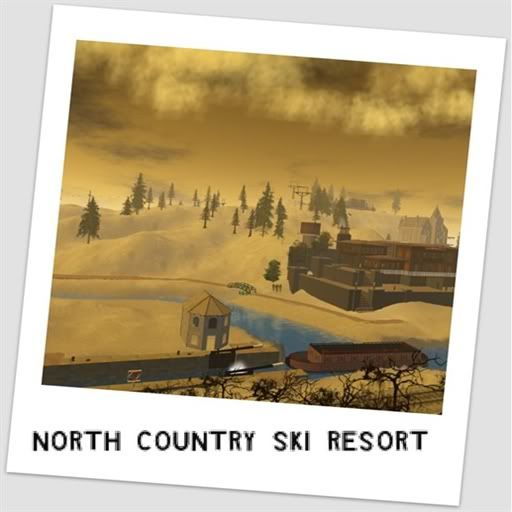 The Sea Crystal Carousel
http://slurl.com/secondlife/WaterWay%20New%20York/190/180/22
HealthLink New York Orientation Presentation
http://slurl.com/secondlife/HealthLink%20New%20York/140/140/25
Healing Grounds Coffee Shop
http://slurl.com/secondlife/TriBorough%20New%20York/192/122/23
Brooklyn Clinic
http://slurl.com/secondlife/TriBorough%20New%20York/222/136/23
Wilson Medical Center
http://slurl.com/secondlife/HealthLink%20New%20York/201/119/25
Uncle D's Story Quest in Brooklyn ( HIV/AIDS)
http://slurl.com/secondlife/TriBorough%20New%20York/111/81/23
Autism Awareness Center
http://slurl.com/secondlife/Western%20New%20York/107/27/26
Diabetes Challenge
http://slurl.com/secondlife/Western%20New%20York/53/32/27
As always, thank you for reading and out thanks to Panacea Luminos for her time for the interview.
I hope you enjoy your tour of NY HealthLink. I know I did. Have fun !
Chalice Piers, reporting for Oi Magazine blog